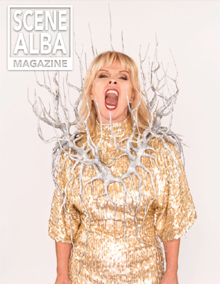 Toyah is the cover star of Issue 47/April 7th 2019, digital magazine Scene Alba, with a one-page interview inside + another new In The Court Of The Crimson Queen photo.
Toyah's album In The Court Of The Crimson Queen is out 12 April. She plays gigs at Edinburgh Liquid Room (25 April), Dundee Church (26 April), Inverness Ironworks (27 April) & Glasgow Classic Grand (28 April).
We did a quick fire Q&A with her where she had to give us the answer that first came into her head.
What got you into music?
The Sound Of Music. The Movie.
First song you heard that really moved you?
Fly Away Peter Fly Away Paul… Cliff Richard… I was 7 yrs old.
Last lie you told?
My lies usually start with: "That's really interesting… Thank you".
• Continue reading Toyah's interview with Scene Alba online here.