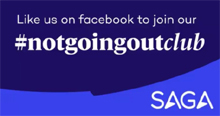 She has over 20 albums, 10 films and 40 plays under her belt, but Toyah's biggest-ever tour has just been thwarted by the lockdown. How is she dealing with this setback, and what positive thoughts can she share with Julie Peasgood and the #notgoingoutclub?
Toyah talks being busy, not touring, the Sunday #lockdown videos, healthy eating and offers a few pearls of wisdom.
• Click below to watch the interview. See the SAGA UK preview clip of Toyah at Twitter.