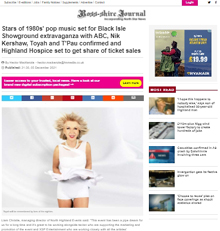 Stars of 1980s' pop music set for Black Isle Showground extravaganza with ABC, Nik Kershaw, Toyah and T'Pau confirmed and Highland Hospice set to get share of ticket sales
Stars of the eighties are set to shine at the Black Isle Showground for a nostalgia-fuelled party that will also put a smile on faces at one of the Highlands' most cherished charities.
ABC, known for hits including The Look of Love, Poison Arrow and All of My Heart, will headline a two-day bash at the Black Isle Showground at Muir of Ord.
Also lined up for Isle Be Back, are Toyah, who rose to fame on the back of It's A Mystery and I Want To Be Free and Wouldn't It Be Good star, Nik Kershaw. T'Pau, famous for China in Your Hand and Heart and Soul, also feature in the event scheduled for May 13 and 14, 2022.
• Continue reading at the Ross-Shire Journal.