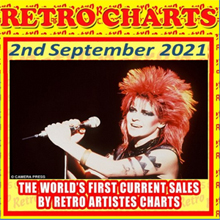 This week's Retro Charts show is packed with legends like Toyah, Duran Duran, Donny Osmond, The Beatles, The Beach Boys, Eric Clapton and more.
The Retro Charts show counts down the top 10 current albums and singles from singers and bands that have been around for more than 25 years. It's the only chart of its kind based on actual sales. No, it's not an oldies show!
This edition is for the chart week ending Thursday 2 September, 2021.
This show is owned by the chart provider, Retro Charts. Follow this channel on Mixcloud, and follow us on Twitter and Facebook@retrocharts to be notified when the new chart is released each week. The show is aired on great radio stations worldwide. If you are a radio station and you want to air this weekly show, or get a version with custom links and idents, contact us via email: retrocharts@aol.co.uk
• Continue reading at Retro Charts @ Mix Cloud.