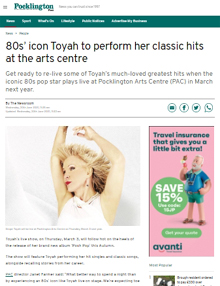 80s' icon Toyah to perform her classic hits at the arts centre
Get ready to re-live some of Toyah's much-loved greatest hits when the iconic 80s pop star plays live at Pocklington Arts Centre (PAC) in March next year.
Toyah's live show, on Thursday, March 3, will follow hot on the heels of the release of her brand new album 'Posh Pop' this Autumn.
The show will feature Toyah performing her hit singles and classic songs, alongside recalling stories from her career.
PAC director Janet Farmer said: "What better way to spend a night than by experiencing an 80s' icon like Toyah live on stage. We're expecting toe tapping, shoulder shuffling, singing and a lot of reminiscing when Toyah takes to our stage to take us on a journey through her 40-year career. What a fabulous and unique event this will be for everyone."
• Continue reading at the Pocklington Post.