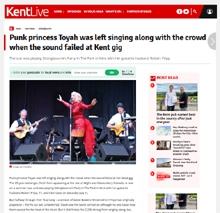 Punk princess Toyah was left singing along with the crowd when the sound failed at Kent gig
The star was playing Sittingbourne's Party In The Park in Kent with her guitarist husband Robert Fripp
Punk princess Toyah was left singing along with the crowd when the sound failed at her latest gig. The 65-year-old singer, fresh from appearing at the Isle of Wight and Glastonbury festivals, is now on a summer tour and was playing Sittingbourne's Party In The Park in Kent with her guitarist husband Robert Fripp, 77, and their band on Saturday (July 1).
But halfway through their final song – a version of David Bowie's Heroes which Fripp had originally played on – the PA cut out. Undeterred, Toyah and the band carried on although no one could hear them except for the beat of the drum. But it didn't stop the 2,200-strong from singing along, too.
• Continue reading at Kent Live.