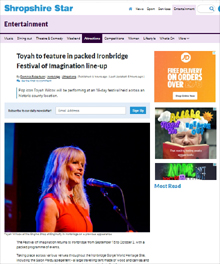 Toyah to feature in packed Ironbridge Festival of Imagination line-up
Pop icon Toyah Wilcox will be performing at an 18-day festival held across an historic county location.
The Festival of Imagination returns to Ironbridge from September 15 to October 2, with a packed programme of events.
Taking place across various venues throughout the Ironbridge Gorge World Heritage Site, including the Salon Perdu spiegeltent – a large travelling tent made of wood and canvas and decorated with mirrors and stained glass – to be located in Dale End Park.
Across the festival there will be a variety of music, workshops, poetry and walking events. From music icon Toyah to The Graffiti Classics, there will be a host of other performers, including folk music from The Unthanks and the razzle dazzle of the Queenz Show.
Toyah will be performing on Thursday, September 22, at the Salon Perdu. It comes after the released of her top-25 charting album Posh Pop last year.
• Continue reading at the Shropshire Star. NB. This gig is part of the Anthem 40 +1 Tour. More details here.