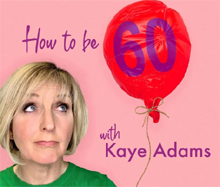 Ep 15: Rebelling with Toyah Willcox
Season 1, Episode 15: This week we're joined by teenage rebel, Toyah Willcox. The ever-regenerating actress and musician has topped YouTube charts for her Sunday Lunch series with husband Robert, and Kaye & Karen talk to Toyah about her upbringing, finding humour in everything she does, and much more.
You can join Kaye and Karen at the Edinburgh Fringe on 23rd & 24th August at the Gilded Balloon, with lots of special guests. Get your tickets here.
• Listen to Toyah's interview, on How To be 60 – With Kaye Adams podcast, here.