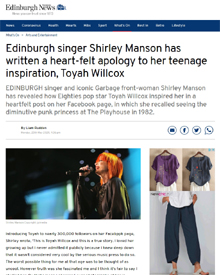 Edinburgh singer Shirley Manson has written a heart-felt apology to her teenage inspiration, Toyah Willcox
Edinburgh singer and iconic Garbage front-woman Shirley Manson has revealed how Eighties pop star Toyah Willcox inspired her in a heartfelt post on her Facebook page, in which she recalled seeing the diminutive punk princess at The Playhouse in 1982.
Introducing Toyah to nearly 300,000 followers on her Facebook page, Shirley wrote, 'This is Toyah Willcox and this is a true story. I loved her growing up but I never admitted it publicly because I knew deep down that it wasn't considered very cool by the serious music press to do so. The worst possible thing for me at that age was to be thought of as uncool. However truth was she fascinated me and I think it's fair to say I studied her. By that I mean I obsessed over photographs of her in magazines and tried to emulate her fabulous, esoteric style, copy her make up, style my hair like she did.'
Singer and actress Toyah fronted the band of the same name between 1977 and 1983 scoring chart success with hits like It's A Mystery, Thunder In The Mountains and I Want To Be Free. She also appeared in cult movies such as Jubilee, The Tempest and Quadrophenia.
After recalling how Toyah was considered 'pretty mainstream' back in the Eighties, Shirley remembered seeing the singer, who is now 62, at The Playhouse, 'I was 15 and pretty mainstream myself but as I said, needed more than anything to appear cool to my peers so I kept my tastes to myself. I went to see her play when she came to The Edinburgh Playhouse in the summer of 1982. I remember the undeniable, visceral thrill of seeing Toyah on stage…. The impact of seeing your idols on stage, in the flesh for the first time was something immense and extraordinarily overwhelming… I just remember the lights and lusting after Toyah's hair and being utterly transfixed.'
• Continue reading at the Edinburgh Evening News.