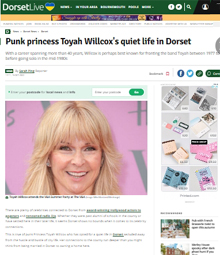 Punk princess Toyah Willcox's quiet life in Dorset
With a career spanning more than 40 years, Willcox is perhaps best known for fronting the band Toyah between 1977 to 1983 before going solo in the mid-1980s
There are plenty of celebrities connected to Dorset from award-winning Hollywood actors to popstars and renowned radio DJs. Whether they were past alumni of schools in the county or have settled here in their later life, it seems Dorset shows no bounds when it comes to its celebrity connections.
This is true of punk Princess Toyah Willcox who has opted for a quiet life in Dorset secluded away from the hustle and bustle of city life. Her connections to the county run deeper than you might think from being married in Dorset to owning a home here.
• Continue reading at Dorset Live.