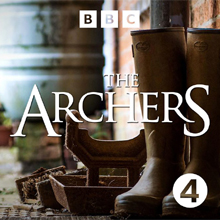 It's the day of the summer fete and Oliver's been minding Will's artwork stall. He hasn't sold any pieces, and Will reckons they'll have to change their strategy. Their tactics of moving the stall and reducing prices have no effect, until they're approached by one interested party who engages Will in conversation about his style and method. Halfway through their conversation Will's stunned to realise he's talking to Toyah Willcox. Will's a big fan. Toyah takes a shine to one of his works. Will offers it free, but Toyah insists on paying. When she's gone star struck Will can't believe it – who cares what anyone else thinks of his work when Toyah loves it!
Lilian reassures nervous Adil in the fortune telling tent; he's doing really well and his last client was very famous. Adil's oblivious, and later is keen to quit while he's ahead having given Jean Harvey a reading she was happy with. Lilian reckons he's found his calling. She encourages him to go and look round the rest of the fete, but when Denise turns up Lilian can't help offering Adil's services for one last reading. With no knowledge of Denise, terrified Adil does his best. He hits on the idea that she has a secret admirer at work. Denise is amazed, and confides to Lilian that this knowledge has helped her with a dilemma she has. Lilian chides Adil for begin irresponsible, but he insists he was hinting that the admirer was in fact an animal. Well that wasn't obvious to Denise, observes Lilian grimly.
• Listen to the episode at BBC Sounds for the next month.