Retro Pop: Toyah Drops 'Zoom Zoom' From New 'Posh Pop' Album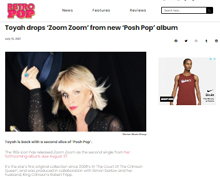 Toyah is back with a second slice of 'Posh Pop'.
The '80s icon has released Zoom Zoom as the second single from her forthcoming album, due August 27.
It's the star's first original collection since 2008's 'In The Court Of The Crimson Queen', and was produced in collaboration with Simon Darlow and her husband, King Crimson's Robert Fripp.
Zoom Zoom follows lead single Levitate, which was released across digital platforms in June.
• Continue reading at Retro Pop.