PAC Photography: Toyah/The Humans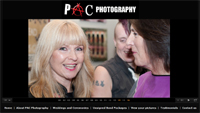 'PAC Photography', who will be at The Robin, Wolverhampton this Saturday to photograph Toyah's 'Changeling Resurrection' gig, have an excellent selection of archive photos of Toyah and The Humans at their website.
The website includes photos of Toyah from the 'From Sheep Farming To Anthem' gig at the Slade Rooms, Wolverhampton last October and photos from two of The Humans concerts, at The Public, West Bromwich and HMV Institute, Birmingham, both also from last October. (access via: View your pictures – Live Music)
There are also photos taken at The Power of Three film premiere at the Everyman Theatre in Hampstead, London in November last year. (access via: View your pictures – events)
• Visit 'PAC Photography' here.