Music Republic Magazine: Toyah Willcox – Track Record…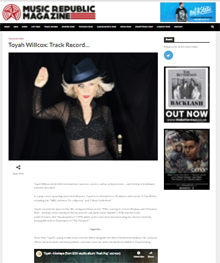 Toyah Willcox needs little introduction; musician, actress, author and presenter….and latterly in lockdowns – internet sensation.
In a pop career spanning more than 40 years, Toyah has released circa 20 albums and scored 13 Top 40 hits, including the 1980s anthems "It's a Mystery" and "I Want To Be Free".
Toyah secured her place in the UK's acting pantheon in the 1970s, starring in at least 40 plays and 10 feature films – perhaps most notably in Derek Jarman's cult punk movie "Jubilee" (1978) and the iconic mods'n'rockers film "Quadrophenia" (1979), while at the same time demonstrating her diverse talent by playing Miranda in Shakespeare's "The Tempest".
Legends… Since then, Toyah's acting credits have seen her billed alongside the likes of Katherine Hepburn, Sir Laurence Olivier, Greta Scaachi and Harvey Keitel…and even seen her enter the world of children's TV presenting.
• Continue reading at Music Republic Magazine.