ITV News: Toyah On Being A Woman In Punk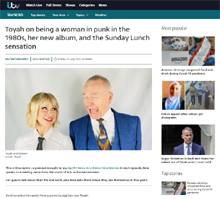 Toyah on being a woman in punk in the 1980s, her new album, and the Sunday Lunch sensation
This is Unscripted – a podcast brought to you by ITV News Arts Editor Nina Nannar. In each episode, Nina speaks to a leading name from the world of arts and entertainment.
Her guests talk about their life and work, plus Nina asks them where they see themselves in five years.
On Unscripted this week, Nina is joined by eighties icon Toyah.
Toyah talks life in the music industry as a woman in punk in the 1980s – and challenging the business now 40 years later.
She chats to Nina about her new album Posh Pop.
And, of course, the pair chat about Toyah and Robert's Sunday Lockdown Lunch – the internet sensation that sprung up in lockdown imagined by the singer and her husband, guitarist Robert Fripp.
• Continue reading/Listen to the interview at ITV News.