Inews: Toyah Willcox: 'I've Trademarked My Name'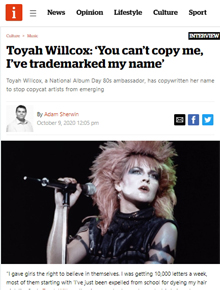 Toyah Willcox: 'You can't copy me, I've trademarked my name'
Toyah Willcox, a National Album Day 80s ambassador, has copywritten her name to stop copycat artists from emerging
"I gave girls the right to believe in themselves. I was getting 10,000 letters a week, most of them starting with 'I've just been expelled from school for dyeing my hair pink,'" reflects Toyah Willcox, the singer and actress whose electric hair and rebellious anthems lit up the charts in the 1980s.
A Top of the Pops fixture with hits like It's A Mystery, I Want To Be Free and Thunder In The Mountains, accompanied by a video of Toyah thundering across a barren landscape on a chariot, the empowered image portrayed by the Birmingham-born singer directly inspired Shirley Manson and other singers who adapted her punk style.
The only pop star to have acted opposite Laurence Olivier and appeared in two films directed by arthouse auteur Derek Jarman, before going on to narrate the BBC's Teletubbies, Toyah, 62, has now trademarked herself as a one-word "brand."
• Continue reading at inews.co.uk.