Yahoo News: Toyah's Isle of Wight Festival Big Top Show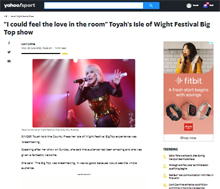 "I could feel the love in the room" Toyah's Isle of Wight Festival Big Top show
Singer Toyah told the County Press her Isle of Wight Festival Big Top experience was 'breathtaking'.
Speaking after her show on Sunday, she said the audience had been amazing and she was given a fantastic welcome.
She said: "The Big Top was breathtaking, it was so good because I could see the whole audience.
"I could feel the love in the room, which was so nice. Everyone knew the music which was great, even my newer music. Also, the weather was amazing for me as it wasn't too hot!"
• Continue reading at Yahoo News. See also the County Press.