Toyah! Toyah! Toyah!: Review by Velvet Thunder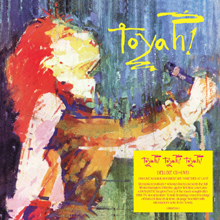 A great, comprehensive, review of the. just released, deluxe Toyah! Toyah! Toyah! by Velvet Thunder.
Toyah – Toyah! Toyah! Toyah!
CD/DVD Edition (Cherry Red)
These reissues are a long-overdue reassessment of Toyah's early-'80s output, and reaffirm just how much depth and sheer great musicianship and songwriting there was to her catalogue
The deluxe Toyah reissue series reaches its third instalment here, with this 1980 live album getting the treatment. It is slightly confusing now, as a later compilation album was given the same title (coming, of course, from the 1970 film Tora! Tora! Tora!, about the bombing of Pearl Harbour), but this is the original. Coming after the first two albums, Sheep Farming In Barnet and The Blue Meaning, it finds Toyah just on the cusp of becoming a mainstream success, as the next release following this would be the Four From Toyah EP containing It's A Mystery, and everything would suddenly go up a level in terms of profile. This release, then, manages rather neatly to cap the first phase of Toyah's career, that of the underground 'rebel' new wave/art rock figurehead, before the words 'pop star' had even hovered on the horizon.
This was, however, more by happy circumstance than grand design, as the recording was arranged for inclusion in a TV documentary special for ATV, who had got wind of the stir that Toyah was beginning to make, and sensed a popular (and no doubt in their minds 'trendy') bit of youth programming. To that end, a special performance in Wolverhampton was tacked onto the end of the UK tour (the last she would do in club venues), recorded and filmed, and thus formed the material for this record. In fact, as revealed in the accompanying booklet, Toyah herself claims to have had no idea the gig was going to be filmed until she arrived to find a camera crew setting up on the stage.
• Continue reading at Velvet Thunder.