Toyah! Toyah! Toyah!: Deluxe Release Today!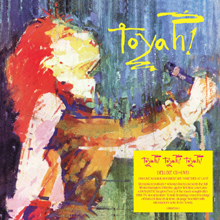 The third reissue from Toyah's Safari Records back catalogue, Toyah! Toyah! Toyah!, is released today on deluxe CD+DVD and colour vinyl by Cherry Red Records.
Toyah's third, and first live, album was originally released in late 1980. It was reissued on CD and colour vinyl in 1990, and reissued again on expanded CD in 2006.
Toyah! Toyah! Toyah! originally peaked at #22 in the UK Top 40 Album Chart in 1980 and also spent an entire year in the Independent Album Chart, earning a Silver sales certification.
The recorded gig took place on 17th June 1980 at the legendary Club Lafayette, Wolverhampton. The CD+DVD set finally restores the full concert set list and pairs the live album with a DVD of the 1980 television documentary Toyah, released on disc for the first time ever.
• Browse Toyah's social media spaces for a visual countdown to today's release, with rare and archive photos and media over the last few weeks.