Toyah On TV: Video Killed The Radio Star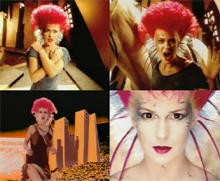 There's a repeat airing of the Toyah Special of Video Killed The Radio Star on Sky Arts next month. This great half hour programme originally premiered in August 2018.
The programme focuses on the making/creation of Toyah's 80s pop videos. The programme is repeated on Monday 11th April.
Video Killed the Radio Star reveals the genius, madness, excesses and ideas behind some of music's most famous videos. Featuring interviews with iconic bands and artists, directors, cameramen and others involved in the creative process of making the ultimate pop promo.
Video Killed The Radio Star: Sky Arts: Monday 11th April: 11.30am
Toyah Willcox. (Series 7, Episode 6) An insight into the making of videos by Toyah Willcox, whose hits included It's A Mystery, Thunder in the Mountains and I Want To Be Free.