Toyah on TV: Quatermass – Chapter Two: Lovely Lightning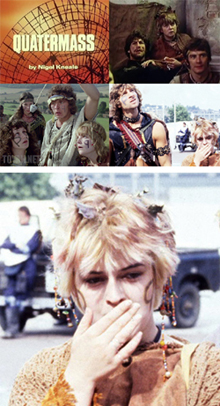 Quatermass: Talking Pictures TV: Tue 26th May: 9pm
Chapter Two: Lovely Lightning. The Planet People's leader, Kickalong (Ralph Arliss), believes that the Planet People gathered at Ringstone Round have been transported—as promised—to "the planet", but it is clear to Quatermass and Kapp that they have been reduced to ashes. One badly burnt survivor – a girl called Isabel (Annabelle Lanyon) who deliriously talks about "lovely lightning" – is found and is brought back to the Kapps' cottage. Making contact with NASA scientist Chuck Marshall (Tony Sibbald), they learn that thousands of young people have disappeared in similar incidents at similar sites all around the world. Quatermass, aided by District Commissioner Annie Morgan (Margaret Tyzack), decides to bring Isabel to London for tests. As they make their journey, Quatermass speculates as to whether there is any connection between recent events and the decline in society.
Reaching London, they are attacked by a gang. Quatermass is yanked from the car but Annie and Isabel manage to escape. Meanwhile, a large number of Planet People arrive at the radio telescope, congregating at the stone circle on its grounds. Working some distance away, Kapp is horrified to see the light strike the area where his home is and rushing home, he finds his family gone as it was caught in the radius of the deadly light. His two friends and dog died too.
This episode originally aired on 31st October 1979 on the ITV network and was watched by 10.8m viewers in the UK. The 1979, four-part, mini series Quatermass (also known as The Quatermass Conclusion or Quatermass IV) is airing weekly from Tuesday 19th May. Stars John Mills, Simon McCorkindale, Barbara Kellerman, Ralph Arliss, Rebecca Saire, Toyah Willcox, David Yip, Alison Dowling.
• Talking Pictures TV is An Archive Film & TV Channel. Available on the following platforms/channels: Freeview 81, YouView 81, Freesat 306, Sky 328 and Virgin 445.