Toyah on TV: Quatermass – Chapter One: Ringstone Round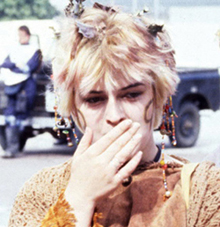 Quatermass: Talking Pictures TV: Fri 26th Nov: 8pm
Chapter One: Ringstone Round. Quatermass (John Mills), now living in retirement in Scotland, travels to London in search of his granddaughter, Hettie Carlson, who has gone missing. He is shocked by the scale of the urban collapse that has struck the city – law and order has broken down and marauding gangs terrorise the litter-strewn, decaying streets. The fall of civilization has been general across the world. Appearing as a guest on a television programme covering the "Hands in Space" project, a joint space mission between the United States and Russia, Quatermass is horrified when the two spacecraft are destroyed by some unknown force.
Astronomer Joe Kapp, another guest on the programme, invites Quatermass to join him at his home in the country where he and two friends have constructed two radio telescopes. At the radio telescope site, Kapp's colleagues report that they detected a powerful signal at the exact time of the incident in space. Quatermass is intrigued by the behaviour of a group of hippie-like youngsters known as the Planet People, who are travelling to various neolithic sites (about 5,000 years old) from where they believe they will be transported to a better life on another planet.
Quatermass suspects Hettie has joined them. Along with Kapp's wife, Claire, Quatermass and Kapp follow a group of Planet People to a stone circle of megaliths, Ringstone Round. As they watch, the Planet People assembled inside the circle are bathed in a bright light and disappear, leaving only a residue of white dust behind..
This episode originally aired on 24th October 1979 on the ITV network and was watched by 12.4m viewers in the UK.
The 1979, four-part, mini series Quatermass (also known as The Quatermass Conclusion or Quatermass IV) is airing weekly from Tuesday 19th May. Stars John Mills, Simon McCorkindale, Barbara Kellerman, Ralph Arliss, Rebecca Saire, Toyah Willcox, David Yip, Alison Dowling.
• Talking Pictures TV is An Archive Film & TV Channel. Available on the following platforms/channels: Freeview 81, YouView 81, Freesat 306, Sky 328 and Virgin 445. (Photos © ITV)