Toyah On NOW 80s: Sack The Stylist/80s Stars/Rock Chicks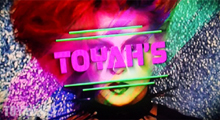 Toyah's Sack The Stylist?! Top 30: NOW 80s
Monday 20th September: 11pm
Pop legend Toyah brings 30 memorable videos featuring a cavalcade of clothing calamities from superstars including Visage, Five Star, Divine, Cher, The Jam, Bananarama, Dead Or Alive, Bucks Fizz, ABC, Depeche Mode, David Bowie, Madonna, Adam & The Ants, A Flock Of Seagulls, Roxy Music, Kajagoogoo, Duran Duran, Grace Jones, Su Pollard, Toyah herself and more in this crazy countdown! See the full Toyah's Sack The Stylist?! Top 30 playlist here.
"Well, I've been taking an affectionate look at fellow pop stars and their styles so I had to balance things out with that. My hair, make-up and outfit on Thunder In The Mountains was pretty crazy. But I loved it!"

80s Stars – Then & Now!: NOW 80s: Thursday 23rd September: 4pm
Where are they now? Classic hits, followed by some recent songs – Including Pet Shop Boys, Kylie, Toyah, The Stones, Gary Numan, The Pretenders, New Order, Rick Astley & T'Pau!
Carol Decker's 30 Rock Chicks!: NOW 80s: Friday 24th September: 12pm
T'Pau's Carol Decker brings a bit of Heart and Soul to a countdown of '80s ladies who like to rock! With Joan Jett, Tina Turner, Stevie Nicks and Pat Benatar. (as well as Toyah via the Thunder In The Mountains video)
Seven Inch Heroes: NOW 80s: Various Days & Times – See your TV Planner
Before the CD, the perfect pop songs were spun by singers & bands on 7 inch vinyl. From 1980-1984 these were the classic UK hits that invaded the world! (NB. This airs sporadically on NOW 80s, sometimes including Toyah!)