Toyah On Christmas Radio: The Lee Mack Show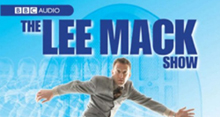 The Lee Mack Show: BBC Radio 4 Extra:
Christmas Day: 10pm
Toyah Willcox. Series 1, episode 6. Comedy sketches and music, with regulars Angela McHale and Steve Brown and guest Toyah Willcox. First aired in 2005 (This show includes Toyah performing a stonkingly good version of Guns 'N Roses' Sweet Child O' Mine).