Toyah Newsy Bits & Pieces!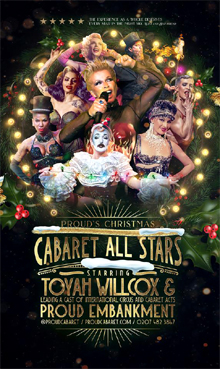 • Proud Cabaret: Toyah is on stage in Proud Cabaret throughout selected dates in December including Thursday 9th December (tonight)! Book at proudcabaret.com or call 020 7482 3866⁠. Monday to Saturday from 10am to 6pm.
• Proud Cabaret: ⁠Proud's Triple Lockdown Guarantee guarantees a full refund in the event of any forced cancellation or date moves due to Government measures relating to COVID-19.
• Toyah On TV 2022: Celebrity Help! My House Is Haunted is set to premiere on Discovery Plus UK on January 21st 2022. Celebs include Toyah Willcox, Joey Essex, Martin Roberts and Alex Best.
• Love Sunday: Toyah was the cover star of The Sunday People's magazine last weekend, with the headline: "I've never been so grateful to be back on stage" (Thanks to Michael Murray)
• Retro Pop: Toyah praises BRITs for 'ahead of the game' gender-neutral move: The punk icon hopes the change will "empower a whole new generation" of artists. Toyah has given BRITs bosses the seal of approval for their latest gender-neutral move. The change, which has been called for by stars including Sam Smith, is a move that bosses hope will allow the awards to "[celebrate] artists solely for their music and work, rather than how they choose to identify or as others may see them" – Continue reading…
• The Northern Scot: Stars of 1980s' pop music set for Black Isle extravaganza – ABC, Nik Kershaw, Toyah and T'Pau confirmed: Stars of the eighties are set to shine at the Black Isle Showground for a nostalgia-fuelled party that will also put a smile on faces at one of the Highlands' most cherished charities – Continue reading…
• Nostalgia Central: Look! Hear!: 1977 – 1981 (UK) – 30 minute episodes: This teen-orientated show from the BBC covered the contemporary scene in the Midlands and was hosted by local girl (and future punk superstar) Toyah Willcox and a number of Midlands DJs, including Chris Phipps in Birmingham and John Holmes in Nottingham – Continue reading…