Toyah News Briefs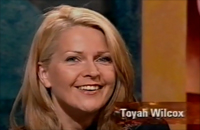 • Bongorama: It's Slade: 1999 BBC1 documentary on Slade. Just uploaded to 'You Tube' in five parts. Includes Toyah reminiscing about being a fan in the 70s.
• Vintage TV: Everyone here at Vintage TV is delighted to learn that one of our favourite presenters, Toyah Willcox, is being honoured by her home town of King's Heath with the first-ever star on their Walk of Fame. Huge congratulations Toyah!
• Toyah on TV: Two upcoming tv appearances to look forward to: The Janice Long Review Show will air on a Sunday evening, late July or August on 'Vintage TV'. Pointless Celebrities was recorded a few months ago and will air on a Saturday evening on 'BBC1'. More precise info on both when known.
• Toyah @ Twitter: Toyah tweeted from the 'Rock & Bike Fest' yesterday: "Having fab day @ Rock n' Bike Fest. having fun with security….teasing them big time", and today: "Wild n' fantastic day at Rock n' Bike Fest. Got to sing with The Sweet, then shaved a ladies head for charity! how often does that happen!"