Toyah Live 2022: Anthem 40+1 Anniversary Tour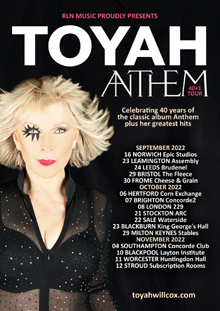 A celebratory 16-date tour of Toyah's legendary 1981 album, Anthem, is confirmed today.
Here is the press release, with info and full tour dates, from toyahwillcox.com:
ANTHEM 40+1 ANNIVERSARY TOUR CONFIRMED FOR SEP-NOV 2022
A special tour is confirmed today to celebrate 40 years of the iconic, acclaimed and Gold-selling Toyah album Anthem. Originally released May 1981, the album contains the smash hit singles I Want To Be Free and It's A Mystery.
Spending 46 weeks in the charts, Anthem became one of the most-loved LPs of the 1980s.⁣
⁣
To mark its 40+1 anniversary, an extended selection from Anthem will be performed by Toyah and her band alongside her other greatest hits and classics.⁣
⁣
ANTHEM 40+1 ANNIVERSARY TOUR⁣
MOST DATES ON SALE FRI 18 FEB⁣
SEE toyahwillcox.com/gigs for links.
⁣
September 2022⁣
16 Norwich Epic Studios⁣
23 Leamington Assembly⁣
24 Leeds Brudenel⁣
29 Bristol The Fleece⁣
30 Frome Cheese & Grain⁣
⁣
October 2022⁣
06 Hertford Corn Exchange⁣
07 Brighton Concorde2⁣
08 London 229⁣
21 Stockton ARC⁣
22 Sale Waterside⁣
23 Blackburn King George's Hall⁣
29 Milton Keynes Stables⁣
⁣
November 2022⁣
04 Southampton Concorde Club⁣
10 Blackpool Leyton Institute⁣
11 Worcester Huntingdon Hall⁣
12 Stroud Subscription Rooms