Toyah Live! 2020: Virtual Woo Fest TODAY!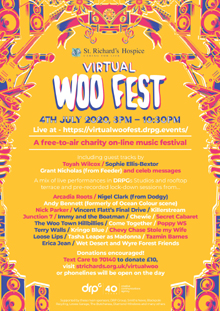 Following last night's four-hour Let's Rock Lockdown Fest 2, which Toyah contributed live performances of Dance In The Hurricane and I Want To Be Free to, comes today's Virtual Woo Fest 2020.
The Next Woo Fest – Virtual Woo!
Normal Woo Fest is cancelled due to Covid-19 however we have moved to an online festival will which will take place on 4th of July.
Supported by the wonderful DRP Group at their studios in Hartlebury. The day will run in a similar way to Comic Relief with free to air viewing but with different donation opportunities to St Richard's Hospice. The day will include both live and pre-recorded performances from many great musicians including the odd celebrity!
Virtual Woo Fest – bringing the festival to your homes and gardens
Woo Fest music festival is an award winning multi-genre music festival for all ages that raises funds for St Richard's Hospice, Worcester, England. It's set in a beautiful location near Upton upon Severn and has gone from strength to strength since its launch in 2015 raising over £57K with every single penny from every ticket going to the hospice
It has grown from a small festival of friends and family to the first festival on the calendar for many new friends.
• Visit the official Woo Fest website. Watch today's virtual Woo Fest by clicking here or below. See a larger version of the festival flyer.