Thunder In The Highlands: Newsy Bits!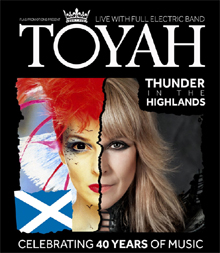 • Thunder In The Highlands, Toyah's four-date Scottish tour gets going on Thursday 25th April at Liquid Rooms, Edinburgh.
• There are also dates in Dundee (Church), Inverness (Ironworks) and Glasgow (Classic Grand) over subsequent nights from 26th – 28th April.
• This will include the first live performances of Dance In The Hurricane and features a set of Crimson Queen songs and classic hits and favourites from the last 40 years.
• The Glasgow venue has been upgraded to Classic Grand. Original tickets remain valid.
• A new 2019 Toyah T-shirt will be available alongside signed copies of a selection of recently discovered vintage Toyah vinyl.
• Buy your Thunder In The Highlands tickets here / Thanks to Breaking Through – The Official Toyah Mailing List.