The Herald: Who Believes in Psychics?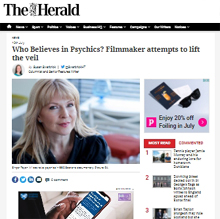 Who Believes in Psychics? Filmmaker attempts to lift the veil
What's the story?
Who Believes in Psychics?
Is that a rhetorical question?
It is the title – and subject – of a BBC Scotland documentary that sees filmmaker Conor Reilly delve into the world of psychic mediums. A staunch sceptic, Reilly sets out to understand why some people are firm believers and turn to mediums for guidance or comfort.
Tell me more.
Reilly meets Mary McCarron in Lanarkshire to learn about her self-proclaimed abilities to talk to the dead.
• Continue reading at The Herald. See directly below for the air date and time info for this programme.