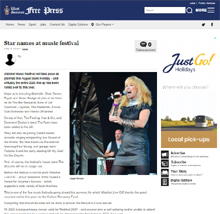 Watchet Music Festival will take place as planned this August Bank Holiday – and virtually the entire 2020 line-up has been rolled over to this year.
Major acts including Gabrielle, Shed Seven, Toyah and Sister Sledge all plan to be there as do The Bar-Stewards Sons of Val Doonican, Leylines, The Hawkmen, Future Dub Orchestra and Hands Off Gretel.
On top of that, The Feeling, Hue & Cry, and Desmond Decker's band The Aces have been added to the bill.
They will also be joining Exeter-based acoustic singing-songwriting duo Sound of the Sirens, Tex Mex band Los Pacaminos featuring Paul Young, surf garage band Palooka 5 and the party-starting Oh My God! It's the Church.
And, of course, the festival's house band The Wurzels will be on stage, too.
• Continue reading at the West Somerset Free Press.