Rewind Festival: Live From the Drive In – Concerts Update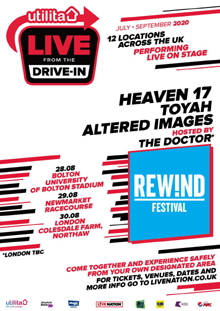 An update from Rewind Festival regarding next month's Live From the Drive In dates.
The Live From The Drive In concert series will no longer proceed as planned this summer.
We received huge support from artists, the live music production contractors, our headline sponsor Utilita along with our other partners, and of course you, the fans.
However the latest developments regarding localised lockdowns mean it has become impossible for us to continue with the series with any confidence.
We thank everyone for their support and eagerly await a time when we can watch live music together again.
Full refunds will be issued directly to all ticket holders within the next 7 days.