Retro Pop: Toyah's 1980 Live Album Gets Deluxe Reissue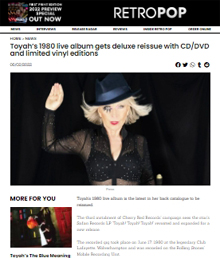 Toyah's 1980 live album gets deluxe reissue with CD/DVD and limited vinyl editions
Toyah's 1980 live album is the latest in her back catalogue to be reissued.
The third instalment of Cherry Red Records' campaign sees the star's Safari Records LP 'Toyah! Toyah! Toyah!' revisited and expanded for a new release.
The recorded gig took place on June 17, 1980 at the legendary Club Lafayette, Wolverhampton and was recorded on the Rolling Stones' Mobile Recording Unit.
It's been remastered from the original master tapes by Nick Watson and a CD/DVD edition features the full concert setlist – including the previously unreleased songs She, a reprise of Danced and an unedited complete version of Neon Womb, which originally faded early as the B-Side of live single Danced – paired with a DVD of the 1980 television documentary 'Toyah'.
• Continue reading at Retro Pop. Pre-Order Toyah! Toyah! Toyah! at Cherry Red.