Retro Pop: Toyah Unveils 'Summer Of Love'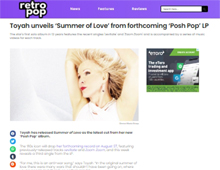 Toyah unveils 'Summer of Love' from forthcoming 'Posh Pop' LP
The star's first solo album in 13 years features the recent singles 'Levitate' and 'Zoom Zoom' and is accompanied by a series of music videos for each track.
Toyah has released Summer of Love as the latest cut from her new 'Posh Pop' album.
The '80s icon will drop her forthcoming record on August 27, featuring previously-released tracks Levitate and Zoom Zoom, and this week reveals a third single from the LP.
"For me, this is an anti-war song," says Toyah. "In the original summer of love there were many wars that shouldn't have been going on, where young people lost their lives or their minds"
• Continue reading at Retro Pop.