Retro Pop: Toyah Scores Highest Solo Album Placement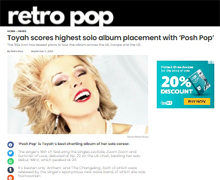 Toyah scores highest solo album placement with 'Posh Pop'
The '80s icon has teased plans to tour the album across the UK, Europe and the US.
'Posh Pop' is Toyah's best charting album of her solo career. The singer's 16th LP, featuring the singles Levitate, Zoom Zoom and Summer of Love, debuted at No. 22 on the UK chart, beating her solo debut 'Minx', which peaked at 24.
It's beaten only by 'Anthem' and 'The Changeling', both of which were released by the singer's eponymous new wave band, of which she was frontwoman. 'Anthem' was a UK No. 2 hit, while 'The Changeling' reached No. 6. The live album "Warrior Rock' also hit No. 20.
• Continue reading at Retro Pop. Read Retro Pop's recent interview with Toyah.