Retro Pop: Toyah 'Posh Pop' Interview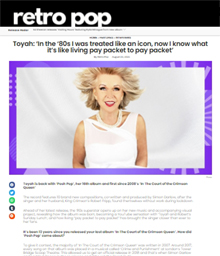 Toyah: 'In the '80s I was treated like an icon, now I know what it's like living pay packet to pay packet'
Toyah is back with 'Posh Pop', her 16th album and first since 2008's 'In The Court of the Crimson Queen'
The record features 10 brand new compositions, co-written and produced by Simon Darlow, after the singer and her husband, King Crimson's Robert Fripp, found themselves without work during lockdown.
Ahead of her latest release, the '80s superstar opens up on her new music and accompanying visual project, revealing how the album was born, becoming a YouTube sensation with 'Toyah and Robert's Sunday Lunch', and how living "pay packet to pay packet" has brought the singer closer than ever to her fans.
It's been 13 years since you released your last album 'In The Court of the Crimson Queen'. How did 'Posh Pop' come about?
To give it context, the majority of 'In The Court of the Crimson Queen' was written in 2007. Around 2017, every song on that album was placed in a musical called 'Crime and Punishment' at London's Tower Bridge Scoop Theatre. This allowed us to get an official release in 2018 and that's when Simon Darlow and I added Dance in the Hurricane and Who Let the Beast Out?.
What happened with 'Posh Pop' is the extraordinary experience of all of our live shows being cancelled or postponed until a later date. Having all this time doesn't mean that you stop being a creative human being. So we found a way of being able to write and to do the next album, and lockdown enabled us to do that in a very strange way.
• Continue reading at Retro Pop. Posh Pop is released on Friday. Pre-order the album here.