Retro Pop: Interview – Toyah On Dyslexia Breakthrough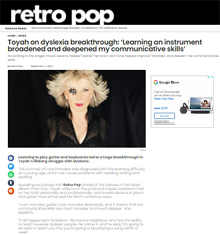 Toyah on dyslexia breakthrough: 'Learning an instrument broadened and deepened my communicative skills'
According to the singer, music lessons helped "rewire" her brain and have helped improve "broaden and deepen" her communicative skills.
Learning to play guitar and keyboards led to a huge breakthrough in Toyah's lifelong struggle with dyslexia.
The Summer of Love hitmaker was diagnosed with the learning difficulty at a young age, which can cause problems with reading, writing and spelling.
Speaking exclusively with Retro Pop ahead of the release of her latest album 'Posh Pop', Toyah reflects on the profound impact lockdown had on her, both personally and professionally, and reveals lessons in piano and guitar have enhanced her life in numerous ways.
"I can now play guitar, I can now play keyboards, and it means that my communicative skills are much broader and much deeper," she explains.
• Continue reading at Retro Pop. Read Retro Pop's review of Posh Pop.