Releases: The Blue Meaning on 140g Black Vinyl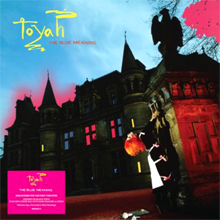 A 140g black vinyl LP of the remastered version of Toyah's 1980 album The Blue Meaning is released on 15th July 2022.
The second disc in a re-issue programme of Toyah's entire Safari Records catalogue following the limited edition neon pink coloured vinyl LP version released by Cherry Red in May 2021 which immediately sold out.
Produced by Steve James and 'Toyah' the band – Joel Bogen, Pete Bush, Toyah Willcox, Steve Bray and Charlie Francis, the album reached #1 on the UK Independent Album Chart and charted in the main UK Top 40 album chart in June 1980.
Includes the ultimate fan favourite 'Ieya', considered a signature song by the band, which was also released as a single, plus 'Blue Meanings', 'Mummies' and the psychedelic 'Spaced Walking' for which Toyah's vocals were recorded after inhaling helium.
A Punk/New Wave classic featuring a brand new inner bag with rare and unseen imagery of Toyah, plus official lyrics for the album.
• Click below to pre-order the vinyl at Cherry Red Records.