Radio: In The Court Of The Crimson Queen Interviews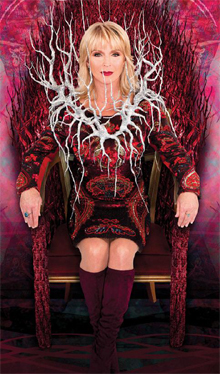 More In The Court Of The Crimson Queen radio interviews from Toyah over the past few days:
Celebrity Radio: Alex Belfield: 29.03.2019 – Enjoy Celebrity Radio's Toyah Willcox TV Interview 2019… Toyah Willcox has an instantly recognisable voice and has been one of the UK's biggest stars for decades. Toyah hits the road in 2019 to celebrate and perform material from her newly re-imagined double album In The Court Of The Crimson Queen, released by Edsel Records. Watch at Celebrity Radio.
BBC Hereford & Worcester: BBC Music Introducing: 07.04.2019 – Pershore's Toyah is releasing her brand new album this week, In The Court Of The Crimson Queen. The actor and singer claims this is her 'finest work to date' having now been in the public spotlight for 42 years. Toyah will perform material from the new album live on tour throughout 2019 with more than 50 confirmed dates, including a Scottish tour in April, summer festivals including stops in Dublin, Bali and Belgium, and an autumn/winter tour of major UK cities. Listen at BBC Sounds for the next month.
Gaydio: Phil Marriott: 07.04.2019 – Toyah talks about her new album. Jarman, Boy George, not fitting gender stereotypes, her love of horror, Kate Bush, her weird dreams of tidal waves – all areas covered! – If you missed the interview airing, fear not! To celebrate the new album release WATCH an uncut and extended VIDEO at www.philmarriott.net.