Official Toyah: Toyah & Robert @ Glastonbury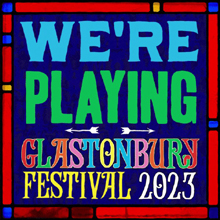 "We're thrilled to announce that TOYAH & ROBERT are playing the Acoustic Stage at Glastonbury 2023 on Sunday 25 June!" Toyah Willcox
Glastonbury announced the full line up on 24 May:
The Acoustic Stage is a festival within a festival. For the last thirty years or so, people have been trooping up to the hill to the haven of the Acoustic field. The crowds visit the Acoustic Stage to either avoid the rain and, maybe even, the sun – in the sanctuary of super-duper circus tent – or, to hear acoustic, song-based music. Mostly it's blues, folk, contemporary or country music, but…..it's not always played on acoustic instruments.
The Acoustic Stage has had the pleasure to welcome Ray Davies, Christy Moore, Joan Baez, Jackson Browne, The Waterboys, Robert Plant, The Moody Blues featuring… Michael Eavis, John Prine, Art Garfunkel, Kate & Anna McGarrigle, Keane and The Bootleg Beatles, amongst many others.
• Continue reading at toyahwillcox.com.