News & Star: Toyah Willcox To Perform New Show In Carlisle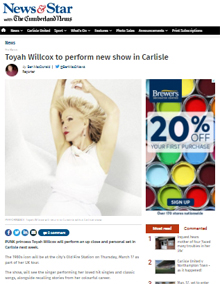 Punk princess Toyah Willcox will perform an up close and personal set in Carlisle next week.
The 1980s icon will be at the city's Old Fire Station on Thursday, March 17 as part of her UK tour.
The show, will see the singer performing her loved hit singles and classic songs, alongside recalling stories from her colourful career. Toyah's career has spanned over 40 years, where she has worked as a singer and TV presenter.
The 63-year-old has featured in films such as Jubilee, Quadrophenia and the recent The Ghosts of Borley Rectory, as well as TV shows such as Shoestring, Minder, Kavanagh QC and Maigret.
She returns in Cumbria after performing in Millom last month. The singer will perform hits including 'It's A Mystery', 'Thunder in The Mountains', 'I Want to Be Free' and 'Good Morning Universe' alongside numbers from her latest release, 'Posh Pop'.
• Continue reading at the News & Star.