Guitar.Com: Robert Talks Toyah & Robert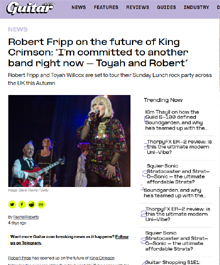 Robert Fripp on the future of King Crimson: "I'm committed to another band right now – Toyah and Robert"
Robert Fripp and Toyah Willcox are set to tour their Sunday Lunch rock party across the UK this Autumn.
Robert Fripp has opened up on the future of King Crimson following the success of his Sunday Lunch YouTube series with his wife and fellow musician, Toyah Willcox.
The duo began performing a range of covers on Willcox's YouTube channel during the COVID-19 lockdowns, which rose to popularity.
Off the back of the success of their online covers, which are recorded using just an iPhone, the pair are even set to take their Sunday Lunch covers on the road with a UK "Rock Party" tour starting later this month (September).
In a new interview with Guitar World, Fripp was asked if King Crimson is definitely over, or if there is any hope for a tour in the future now that he's so busy with this new project: "I've learned from having attempted to get away from King Crimson in 1974, 1984, 2003 and 2008 that it's probably hard to say!
• Continue reading at Guitar.Com. Browse all of Toyah & Robert's Rock Party tour dates at toyahwillcox.com.