Film London: What Is The Jarman Award?

The Film London Jarman Award at a glance
A world-renowned annual prize for artists' moving image in the UK, established in 2008 | Inspired by visionary artist filmmaker Derek Jarman | Artists are nominated by art and film world experts across the UK each year | A jury of industry leaders select 6 artists for the shortlist | Works by the shortlisted artists are toured to key cultural venues across England, Scotland, Wales and Northern Ireland | £10,000 prize money
Film London Jarman Award Patrons
Spanning actors, artists, screenwriters and musicians, the Patrons' work and support are vital in the development and success of the Award. The Film London Jarman Award Patrons are John Akomfrah, Terence Davies, Rupert Everett, Dexter Fletcher, Hetain Patel, Tony Peake, Tilda Swinton and Toyah Willcox.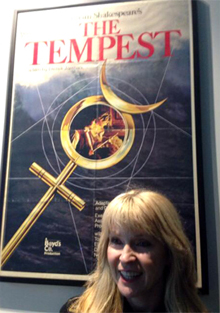 The Patrons' expertise, industry knowledge and connection to Derek Jarman in either a professional or a personal capacity help to introduce artist filmmaking to a wider audience. Together they help promote and sustain the legacy of Jarman, whose inventiveness and bold ambition is seen in the work of artists practising today and those shortlisted for the Award.
"I consider myself extremely lucky to have worked with Derek Jarman, not only on the movies Jubilee and The Tempest, but also to have been present in his personal life. To have seen first-hand his creative processes and above all to learn from him what it is to live by the rule 'no compromise'. This is the Jarman that inspires me so much today, not only a great visionary, artist, writer and collector of ideas, but a man who saw beyond class, gender, even intellect, into the very important stories of each individual's soul." – Toyah Willcox, singer, writer and actor
• Continue reading at Film London. (Photo © Toyah Willcox)