Edinburgh Evening News: Toyah Interview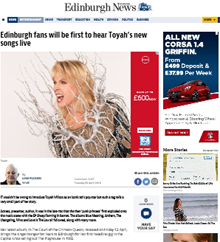 Edinburgh fans will be first to hear Toyah's new songs live
It wouldn't be wrong to introduce Toyah Willcox as an iconic 80's pop star but such a tag tells a very small part of her story.
Actress, presenter, author, it was in the late-70s that the then 'punk princess' first exploded onto the music scene with the EP Sheep Farming In Barnet. The albums Blue Meaning, Anthem, The Changeling, Minx and Love Is The Law all followed, along with many more.
Her latest album, In The Court of the Crimson Queen, released on Friday 12 April, brings the singer/songwriter back to Edinburgh for her first headline gig in the Capital since selling out The Playhouse in 1982.
n the intervening years, of course, Toyah has been no stranger to the city, appearing in numerous 'Best of the 80s' tours as well as starring in the play Picasso's Women at the Festival and in musicals such as Calamity Jane.
Consequently, it's clear the diminutive powerhouse performer is looking forward to returning on 25 April to play The Liquid Room.
• Continue reading at the Edinburgh Evening News.