Consequence Of Sound: A Paranoid Halloween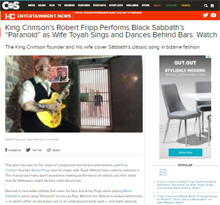 King Crimson's Robert Fripp Performs Black Sabbath's "Paranoid" as Wife Toyah Sings and Dances Behind Bars:
The King Crimson founder and his wife cover Sabbath's classic song in bizarre fashion
This year has seen its fair share of unexpected and bizarre phenomena, and King Crimson founder Robert Fripp and his singer wife Toyah Willcox have come to embrace it. The musical duo have spent quarantine making performance art videos, but their latest idea for Halloween might be their most absurd yet.
Donned in henna-like tattoos that cover his face and arms, Fripp starts playing Black Sabbath's iconic song "Paranoid" on his Les Paul. Behind him, Willcox is locked behind bars — in what's either an old prison cell or an underground bank vault — and starts dancing when the songs begins. When it comes time for the verses, she starts singing the metal classic.
The effect of the video is pretty uncomfortable but morbidly entertaining. Perhaps the use of "Paranoid" and dancing in a cage is a metaphor for quarantine? Or maybe it's just Fripp and Willcox's idea of a Halloween joke.
• Continue reading at Consequence Of Sound.