Toyah! Toyah! Toyah!: Review by Classic Pop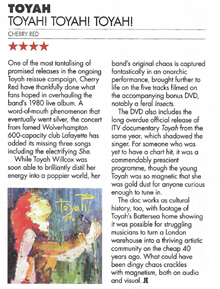 A four star review of the Toyah! Toyah! Toyah! reissue, by Classic Pop magazine. The CD+DVD and colour vinyl is released on Friday 13th May, and can be pre-ordered here.
One of the most tantalising of promised releases in the ongoing Toyah reissue campaign. Cherry Red have thankfully done what fans hoped in overhauling the band's 1980 live album. A word-of-mouth phenomenon that eventually went silver, the concert from famed Wolverhampton 600-capacity Club Lafayette has added its three missing songs including the electrifying, She.
While Toyah Willcox was soon to brilliantly distil her energy into a poppier world, her band's original chaos is captured fantastically in an anarchic performance, brought further to life on five tracks filmed on the accompanying bonus DVD, notably a feral Insects.
The DVD also includes the long overdue official release of the ITV documentary Toyah from the same year, which shadowed the singer. For someone who was yet to have a chart hit, it was a commendably prescient programme, though the young Toyah was so magnetic that she was gold dust for anyone curious enough to tune in.
The doc works as cultural history, too, with footage of Toyah's Battersea home showing it was possible for struggling musicians to turn a London warehouse into a thriving artistic community on the cheap 40 years ago. What could have been dingy chaos crackles with magnetism, both on audio and visual.
• Classic Pop, Issue 75 May/June 2022, is on sale now! (Thanks to Minna)