Anthem Deluxe/Remastered: Classic Pop Review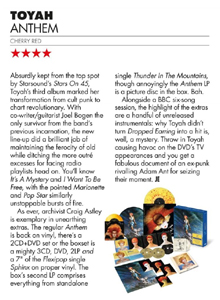 A four star review of the Anthem Deluxe reissue, by Classic Pop magazine. The 2CD+DVD, colour vinyl and Super Deluxe box set is released on Friday 9th September, and can be pre-ordered here.
Absurdly kept from the top spot by Starsound's Stars On 45, Toyah's third album marked her transformation from cult punk to chart revolutionary. With co writer/guitarist Joel Bogen the only survivor from the band's previous incarnation, the new line-up did a brilliant job of maintaining the ferocity of old while ditching the more outre excesses for facing radio playlists head on. You'll know It's A Mystery and I Want To Be Free, with the pointed Marionette and Pop Star similarly unstoppable bursts of fire.
As ever, archivist Craig Astley is exemplary in unearthing extras. The regular Anthem is back on vinyl, there's a 2CD+DVD set or the boxset is a mighty 3CD, DVD, 2LP and a 7″ of the Flexipop single Sphinx on proper vinyl. The box's second LP comprises everything from standalone single Thunder In The Mountains, though annoyingly the Anthem LP is a picture disc in the box. Bah.
Alongside a BBC six-song session, the highlight of the extras are a handful of unreleased instrumentals: why Toyah didn't turn Dropped Earring into a hit is, well, a mystery. Throw in Toyah causing havoc on the DVD's TV appearances and you get a fabulous document of an ex-punk rivalling Adam Ant for seizing the moment.
• The latest issue of Classic Pop is on sale now! (Thanks to Minna)