Christmas 2022: Never Mind The Baubles, Here's Toyah!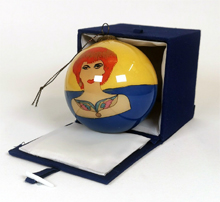 It's beginning to look a lot like… December!
NB. Last UK ordering date for delivery of the Toyah baubles before Christmas is this coming Wednesday (7th December).
Two brand new designs of limited edition official Toyah Baubles are available for the festivities in 2022.
Anthem and Thunder in the Mountains join the range with Brave New World to offer three dangly wonders for the Christmas tree or anywhere in need of a good baubling!
Each one is boxed with a mini card hand signed by Toyah and numbered on the back. We know some fans like to try and get hold of low numbers, others try and get their lucky number, so we've enabled you to select your number when you order.
• Click below to shop the baubles now exclusively online.