Christmas 2022 Countdown: Day 9: A Fanclub Christmas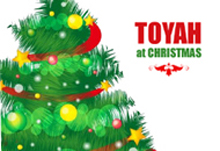 Christmas 1981, 1982, 1983 and 1984. In the early eighties Toyah's Official Fanclub – Intergalactic Ranch House – sent out Christmas cards to subscribing members each December, with Toyah taking the time to sign each and every card, which numbered around 6,000 at the height of the fanclub's popularity.
This tradition was carried on for an extra year, in 1984, when the Intergalactic Ranch House became simply the Toyah Fanclub following Toyah leaving Safari Records after five years and signing to CBS/Portrait Records.
All four cards featured photos of Toyah, showcasing great early eighties imagery and creating a unique set of fanclub memorabilia that became collector's items. Here's a snapshot of a feature on the Christmas cards from an issue of Dreamscape's fanzine.