B:Music: On Record: In Conversation with Toyah Willcox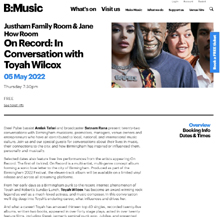 Justham Family Room & Jane How Room
On Record: In Conversation with Toyah Willcox
Thursday 05 May 2022 | 7.30pm
About On Record: In Conversation with Toyah Willcox
Steel Pulse bassist Amlak Tafari and broadcaster Satnam Rana present twenty-two conversations with Birmingham musicians, promoters, managers, venue owners and entrepreneurs who have all contributed to local, national, and international music culture. Join us and our special guests for conversations about their lives in music, their connections to the city, and how Birmingham has inspired or influenced them, personally and musically.
Selected dates also feature free live performances from the artists appearing On Record. The first of its kind, On Record is a multi-artist, multi-genre concept album forming a sonic love letter to the city of Birmingham. Produced as part of the Birmingham 2022 Festival, the eleven-track album will be available on a limited vinyl release and across all streaming platforms.
From her early days as a Birmingham punk to the recent internet phenomenon of Toyah and Robert's Sunday Lunch, Toyah Wilcox has become an award-winning rock legend as well as a much-loved actress, and music composer. In this conversation we'll dig deep into Toyah's enduring career, what influences and drives her.
And what a career! Toyah has amassed thirteen top 40 singles, recorded twenty-five albums, written two books, appeared in over forty stage plays, acted in over twenty feature films, including Derek Jarman's seminal punk epic, Jubilee, and presented hundreds of TV programmes in her own charismatic, outspoken, and impossible to categorise way. She released Posh Pop, her first solo studio album since 2008, in August 2021.
Produced in partnership with B:Music
• Continue reading, and details on booking free tickets for In Conversation with Toyah Willcox, at B:Music. See further info and more events taking place here.